Preparation time

60 mins

Cooking time

30 mins

Difficulty

Serves

12 people
Meal course

Posted by

Posted on

April 25, 2016
2 Cup

1 Tsp

2 Tsp

3/4 Cup

2 Cup

1/4 Cup

1/2 Cup

1 Cup

1 Cup

2

1 Tbls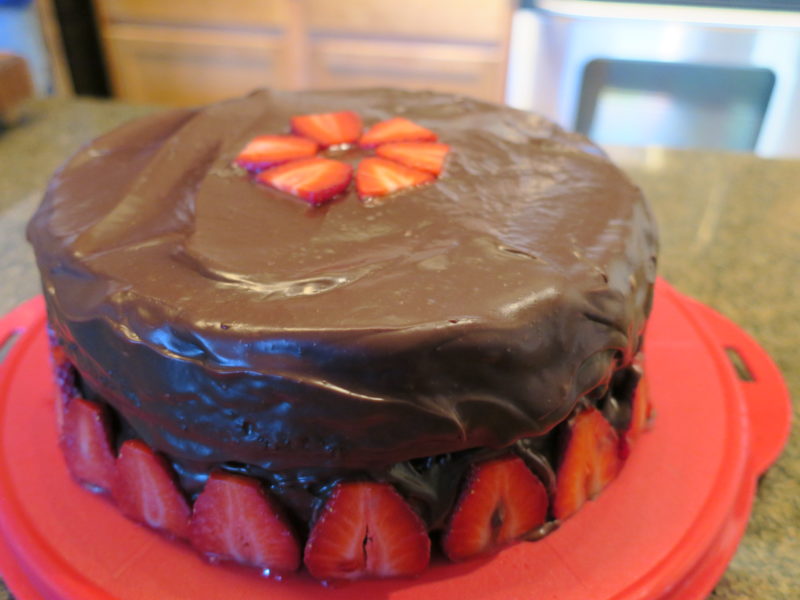 One of my favorite chocolate cake recipes, so moist and a fun add to this is sliced strawberries.  I use the Ganash frosting for this cake it is amazing!
Preheat oven to 350 degrees and line 2-9 inch cake pans with parchment or was circles.
Sift together flour, salt, baking soda, baking powder, cocoa and sugar in a large mixing bowl.
Add the hot espresso coffee, oil, melted butter and milk and mix it for about 2 minutes.
Scrape down the sides of the bowl and add the eggs and vanilla. Beat for 2 more minutes. (This batter is a very liquidy batter)
Pour batter in prepared cake pans and bake for about 30 minutes. The cake can be tested by using a toothpick in the center of the cake, if it comes out clean it is done.
Let the cake cool in the pans for about 10 minutes. Loosen the sides with a metal spatula or knife and invert the cakes on to a cooling racks.